The Highlights:
I have been fortunate over the last forty years to provide audio services for many celebrations, celebrities, speeches, dignitaries, concerts, and entertainers in clubs, music halls, theaters, auditoriums, coliseums, arenas, stadiums, rodeo arenas, and even cow pastures in forty-eight states of the US. A couple of home town friends Rick and Mark Calhoun started a sound company in 1972. I joined them as the chief sound engineer. Our very first client and concert was with Cornelius Brothers and Sister Rose followed by the first tour with a three-platinum records group The Association. In the early 1970s, concert tours were usually short run-outs for a week-end to a week. The sound companies were most often hired regionally, and very few touring bands carried a sound-man with them.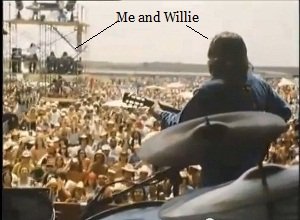 Concert sound was a new industry at the time with few rules or limits. I learned the art of mixing concerts under the fire of expectations from thousands of fans and the demands of famous artists. In 1973, I was one of twelve sound-men working Willie Nelson's first 4th of July Picnic in Abbott, Texas. For his second festival at College Station, I was the primary sound engineer responsible for the sound mix of the majority of the bands and artists over the three-day event. Located on the second floor of a three-story scaffolded platform, one-hundred and fifty feet out from and centered on the stage, I had the best seat at the festival. The stage was over 200 feet wide with two performance areas one either side of a center sound cluster. I had two 48 channel consoles, one for each stage, and no idea who would be the next surprise artist to wander out on stage and join the band that was performing. Additional, I was feeding an audio mix to a video production company filming an episode for the weekly TV show, "The Midnight Special." To hear and see some of the performers from "The Picnic," click here, or click here.
Shortly after the second Willie Festival, I started the Allman Brothers Summer of 74′ Campaign, an all stadium tour. In Houston, Texas, the first of two opening acts for the Allman Brothers was a relatively unknown band at the time called the Eagles. I remember being very impressed by their vocals and harmony. Next came Alice Cooper's "Welcome to my Nightmare" tour, click here. I didn't have mixing duties on either of these tours, but I learned a lot about what was needed to delivery rock-n-roll sound to every seat in really large room like Madison Square Gardens or a grand stadiums like Kansas City Royal Stadium.
In between the stadium and arena concerts were smaller shows, like Kris Kristofferson's "Why Me Lord" tour, Helen Ready's "I Am Woman" tour and Olivia Newton-John's "I Honestly Love You" tour. Along the way there were single dates with artist such as Chuck Barry, B. B. King, Canned Heat, Earl Scruggs, Porter Wagoner, Styx, Asleep at the Wheel, Jim Croce, Melissa Manchester, Brownsville Station, Dolly Parton, Bachman-Turner Overdrive, Waylon Jennings, Emmylou Harris,Vassar Clements, Leslie West and Mountain, Richie Havens, The Dillards, Bob Seger and the Silver Bullet Band, Dave Loggins, Harry Chapin, Crystal Gayle, and Jerry Jeff Walker click here. On most of these concerts, I was the head engineer and created the sound mix for the headline act as well as any opening acts. You could not have asked for a more diverse hands-on training ground for a concert sound engineer. The sound-men that did travel with a particular band were there because they were great at what they did and often were good teachers. New mixing and microphone techniques were passed along from tour to show just like good road stories.
In 1978, I was at the front-of-house console on a 8-foot raiser waiting for Smokey Robinson to take the stage at an outdoor festival in east St. Louis when a riot broke out. This was before they begin banning glass bottles at concerts. One of the first bottles thrown hit me in the back of the head. As I crumpled to the deck, I watched a 20 foot tower with a spotlight on top slowly careen over. When I came to from the concussion, the console and everything around was covered in an inch or two of broken glass. Other than me no one was hurt, but the sound system was completely trashed and had to be thoroughly cleaned and overhauled.
Next year, a tour with Ronnie Milsap began a long-working relationship. Ronnie has amazing hearing, and I learned a lot from watching and listening to him tune a sound system which he did before every show. On a few of his concerts, the opening act was a new, edgy country band called Alabama. On a later tour, a young Reba McEntire opened for Ronnie Milsap. At the time, she was carrying her band gear in a trailer behind a pick-up truck. The SOLAR Tour came along in 1980. It was nationwide tour featuring four R&B bands: the Whispers, Shalamar, Dynasty, and Lakeside. Some of the other regional R&B tours and concerts were with the Barkays, Pointer Sisters, Roger Zapp, ConFunkShun, Curtis Blow w/Fatback and Rufus Thomas (click here).
Very early one morning, almost back home from a run of concerts that began with an outdoor festival in Birmingham starring Rick James, the tractor trailer ran off the road. It was carrying years of road-developed and tested, custom-built sound and lighting equipment. Quickly, leaking diesel fuel ignited and the intense fire consumed everything in the trailer down to the metal speaker frames. Thankfully, no one was badly injured. The upside of the accident was we had a chance to design and build a new sound system from the casters up to the fly-bars. This was a time when many sound companies were making the transition from speaker cabinets intended to be stacked up on either side of the stage to cabinets designed to be flown from a fly-bar suspended from the steel grid in the ceiling of most arenas.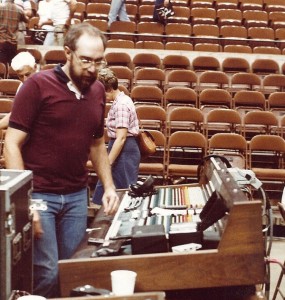 The first road-test for the new system was Mickey Gilley's Urban Cowboy Tour following on the success of the Urban Cowboy movie. In 1982, I went from cowboy hats to expensive shoes and dread-locks. I toured with Air Supply on the passed-a-kidney-stone-on-the-bus tour and with the reggae legends Peter Tosh and Jimmy Cliff, where I found my island groove, working across the US and up to Ice-Hockey arenas of Canada. Then the opportunity to mix audio for Dizzy Gillespie, Maynard Ferguson, and the always-will-be amazing Oscar Peterson at a festival on an outdoor tennis arena in Indianapolis jump-started my ever-growing appreciation for jazz.
One of my favorite tours was with Barbara Mandrell. Barbara is an extremely talented, down-to-earth person and great to work with. Mixing the sound for her and her professional band was always a satisfying and appreciated creation. My daughter celebrated her second birthday while I was out the tour. The longing for and the pull from home and family overtook the lure of the road. This was the first time I had not completed a tour, but Ms. Mandrell was very understanding.
As soon as a replacement engineer could be trained, I headed home. With my own pro-audio sales, design and installation business, I found a certain amount of creative outlet in designing speciality sound systems for particular rooms and unique requirements. The design and installations of sound systems ranged from studio control rooms corporate boardrooms, theaters, stadiums, school auditoriums, to churches of all denominations. Some of the projects included the Arkansas Arts Center, Arkansas Repertory Theatre, St Andrews Cathedral, the Electric Cooperatives of Arkansas' boardroom, and Wildwood for the Performing Arts.
The Repertory Theatre gave me my first experience designing theatrical sound for a production of "The Good Woman of Setzuan." Later, I returned to design the musicals "Nunsence," "Into the Woods," and "Evita." In 1986, Arkansas celebrated the 150th anniversary of it becoming a state. I was hired to design and engineer a sound system for the state's sesquicentennial celebration. The requirements for the system were that it provide concert sound to the seating areas on all four sides of War Memorial Stadium, and that it not be visible to the audience. This was accomplished by arranging all the long-throw equipment from three different sound companies underneath a large, skirted stage built in the shape of the state of Arkansas.
I didn't tour any longer, but occasionally I would work single run-out dates. At an outdoor show in Kansas City with Amy Grant, the stage left speaker stack blew over in a sudden gust of wind. One of the cabinets knocked me across the stage and broke my back. The doctors held little hope that I would walk again. With the support of my wife, a body cast, a couple of steel rods in my back and a lot of work I was walking within a few weeks. Unfortunately, the two steel rods detached from my spine and had to be removed. After the second back surgery, I began to put together a small sound system that could be used for local events. Again this brought me into contact with a new diverse array of different artists, institutions, religious, festivals, and even operas. I got to meet and mix Bob Dorough,who wrote and sung a great many of the songs from the 1980s children's show "Schoolhouse Rock." One of my favorite outdoor event was a festival for children with Bert and Ernie from Sesame Street. I provided sound services and mix for "Shakespear in the Park" troop, several operas including "H.M.S. Pinafore", and for 6,000 gathered to witness a Mass for the retiring Bishop of Little Rock with a performance by John Michael Talbot.
Through the years, I worked with the different TV and video production companies around the region, including providing sound for Paul Harvey, Colin Powell, Dr Ruth, President Ronald Regan, and George H. Bush when he ran for president. Presidential events garnering national attention were rare for Arkansas, until Bill Clinton got into the race. National media, press conferences, political rallies, and campaign announcements soon became a daily every-changing challenge. Satisfying the secession of demanding campaign staffers to immediately providing multiple audio feeds to the frenzy of the traveling national press corp required a new set of engineering, as well as personal skills.
When Clinton's National Campaign headquarters was set up in downtown Little Rock, I was tapped to provide audio equipment and mix for the daily press conferences. On Presidential Election Night-1992, audio from the speeches, entertainment and bands at the numerous venues spread around Little Rock all feed to my console. In a convention hall filled with over 100 different national and international media organizations, I created the final mix sent out by those outlets to the internet, cable, television and radio stations around the world.
Between elections in 1994, I began writing and researching for what would become my first novel. I wrote at night and in my spare time and continued to do local festivals, concerts, corporate events for artist like the Nitty Gritty Dirt Band, Delbert McClinton, Preservation Hall Jazz Band, Diane Schuur, Tout Fishing In America, Pat Boone, Guy Clark, and John Two-Hawks.
For a number of years now I have been the sound engineer for the 18,000-seat Verizion Arena and the 52,000-seat War Memorial Stadium. I have had to learn the unique rules, special regulations, and flow for today's combination of any sporting event with loud sound, rap music, advertisements, and videos. A high-powered, state-of-the-art sound system is now a must-have for high school, college, and arena football, basketball, ice hockey, and even gymnastics. At my last gymnastic competition, every team made the same common request, "Turn It Up. Louder! "
All in all, I still enjoy the spectacle and energy of great masses gathered to hear. What they come to hear varies from crowd to crowd even from person to person through the years, but it's the sounds that bind them all. After the numerous concerts, artist, preachers, and politicians, I have found that the sounds of good ol' rock-n-roll are still the best fit for my ears.
,,,,,,,,,,,,,,,,,,,,,,,,,,,,,,,,,,,,,,,,,,,,,,,,,,,,,,,,,,,,,,,,,,,,,,,,,,,,,,,,,,,,,,,,,,,,,,,,,,,,,,,,,,,,,,,,,,,,,,,,,,,,,,,,,,,,,,,,,,,,,,,,
Home            1)Books            2)Reviews/Interviews            3)Excerpt from Storykeeper            4)Maps/Journals            5)News/Events           6)Sites/Resources            7)Bio             8)Sounds                   9)Contact
,,,,,,,,,,,,,,,,,,,,,,,,,,,,,,,,,,,,,,,,,,,,,,,,,,,,,,,,,,,,,,,,,,,,,,,,,,,,,,,,,,,,,,,,,,,,,,,,,,,,,,,,,,,,,,,,,,,,,,,,,,,,,,,,,,,,,,,,,,,,,,,,